Some Thoughts On The Redskins Game & How Seattle Looks Compared To Last Year
On the 5th of November the Seattle Seahawks fell short in the home game against Washington Redskins.
14-17 was the final score, and for the second week in a row it came down the wire. However the Seahawks LOB couldn't close out this game allowing Kirk Cousins to have an almost perfect drive. He went 2/3 for 69 yards. It's impossible to not credit Cousins for his amazing throws in the face of pressure but Coleman and Shaquill Griffin failed us when it mattered the most, but that's okay though. These games happen!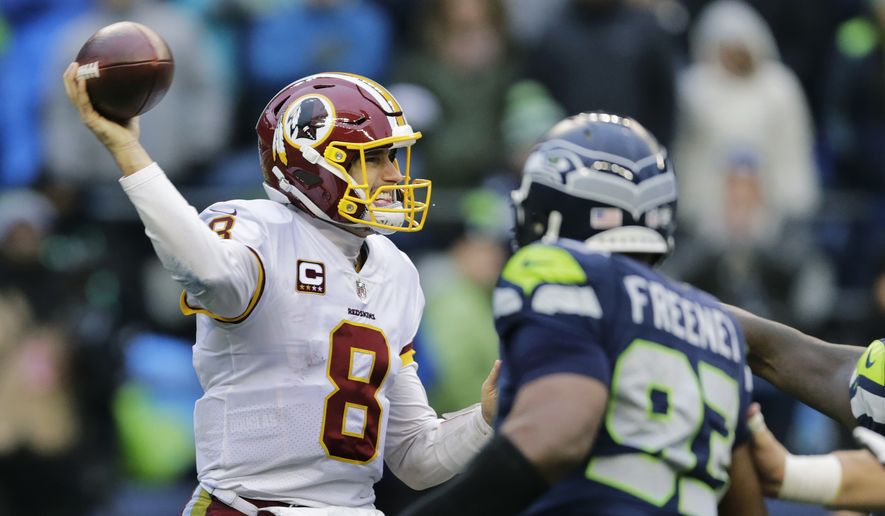 I wanted to share my thoughts on the game so let's start with the negatives first.
The Seahawks playcalling; more than once Thomas Rawls got 5 or more yards per carry, the Seahawks were establishing the run just like they wanted yet they went away from it. Their "philosophy" of running the ball disappeared in a game where they want to run it. This is even more ridiculous to me given the fact that Russ wasn't even having a good game throwing several errant passes and being mistake prone.
The interior pressure. The interior pressure was insane, the Redskins got to Wilson a lot because of the interior penetration their defensive tackles were getting. I thought that both Brown (who had a solid debut) and Ifedi had a good game while Pocic and Aboushi had a nightmare. Aboushi had an extremely poor game, allowing a lot of pressures, being caught holding (at least twice) and gave away a few false start penalties while Pocic was caught with a few holding and false start penalties of his own, yet the latter did not allow as much pressures as his right side counterpart regaining his composure nicely after his mistakes.
Russ' decision making was very poor. Like I said a bit earlier, Russell threw a bad, bad pick straight to the linebacker, while his other pick was a contested pass in the face of pressure. But it weren't just the interceptions that haunted him. Russ had a poor game throwing trying a lot of deep throws and a lot of 50/50 balls.
The penalties. The Seahawks commuted 16 penalties. And that simply cannot happen if you're fighting yourself in a game where you're playing bad, you're probably lose! And that's what happened. The Seahawks failed to capitalise on a lot of defensive stops and could've got an interception or two that they couldn't get their hands on. That, alongside with all the penalties and Russell's bad game (and playcalling) led to this loss.
Last but not least, three missed field goals! The 49 yard field goal miss I can shrug it off, they're not easy to make but the 39 yarder and the 43 yarder should be 6 easy points for Walsh. And as much as it pains me to say it, they are all on him. Still, Walsh was 12 for 13 going into this game, only missing a 50+ so I trust him to fully bounce back. He's my kicker!
As for the positives :
Thomas Rawls was having a good game and looked like his old self, fighting for yards and making good cuts showing his good vision. We may have found our running back answer with another good game in Arizona, I'm pretty sure that Rawls is going to establish himself as the main man in the Seahawks backfield, at least until Carson returns from injury.
The defence played well (minus the final drive). Without Avril (for the rest of the season) and Sheldon Richardson + Earl Thomas out for this game, the Seahawks held the Redskins in check. Cousins didn't make a lot of big plays, the Seahawks D could've gotten a few interceptions (that they dropped), a strip sack (that got called back correctly) but yet they were still able to get six total sacks, SIX! And without Richardson! With him coming back this D can only get better. It's also worth noting that Freeney had a terrific game and that for a 36 years old it's safe to say that he's still got "it".
Everyone caught the ball well. Graham, Willson, Darboh, Paul Richardson, Lockett, Baldwin... This receiving core is looking better and better and, just like the defence, I think they'll only continue to improve as games go on.
The last positive that I have for today is that Aboushi and Pocic (or Joeckel) won't struggle like this every game. There were times where Russell had a legit pocket and time to throw, which is something we haven't seen in a long time. After this game it was also easy to tell that Brown will be a difference maker and a left side consisting him and Joeckel should be pretty good.
Overall the Seahawks are better than where they were last year. The D got better, Russell isn't battling injuries and the offensive line doesn't suck. Yes they dropped again they shouldn't have but this is still good team. They are Super Bowl contenders and looking at their schedule it isn't impossible to go 7-1 or 6-2 in the remainder of our games, this would make us a 12-4 or a 11-5 win team. The Seahawks are legit contenders for the number one seed whether fans believe it or not.
Teams like the Eagles, Rams and Saints will still struggle as much as Seattle will and will have as much of a chance as the Seahawks do to capture the number one seed and homefiled advantage for the playoffs.