Glitter, Glitz, Sparkle, Bliss!
Alexa Biss or Alexis Kaufman was born August 9th 1991 in Columbus, Ohio. In Alexa's early years she enjoyed doing gymnastics, cheerleading, softball, track, and kick boxing. In cheerleading, she reached Division I status in college at the University of Akron. At the tender age of fifteen she suffered a life threatening eating disorder but bodybuilding helped her overcome it. Now she is a WWE superstar and the Raw Women's Champion, this is her fourth reign overall and I expect many more to come!
The reason why Alexa is one of my favourite women is the fact that she's very good at her job, whether she's cutting a promo or wrestling, she can wow you with her ability. She's also an extremely likeable person off camera and that's something that we'll all be able to see in Total Divas.
Beginning Of A Goddess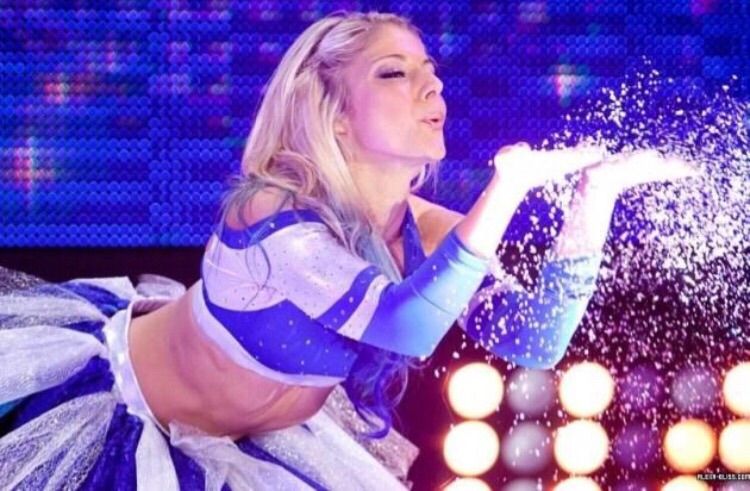 Before she became the evil, mean goddess we have come to know and love she was.....a pixie fairy. I know, I know. Her heel turn was a big forward step for her, she was able to show everyone what she was really about and her ability on the mic. Alexa was the manager for the tag team duo known as Blake & Murphy, they were able to capture the NXT tag team championships but Alexa never got to hold the NXT Women's Championship despite having an entertaining feud with Bayley for the championship.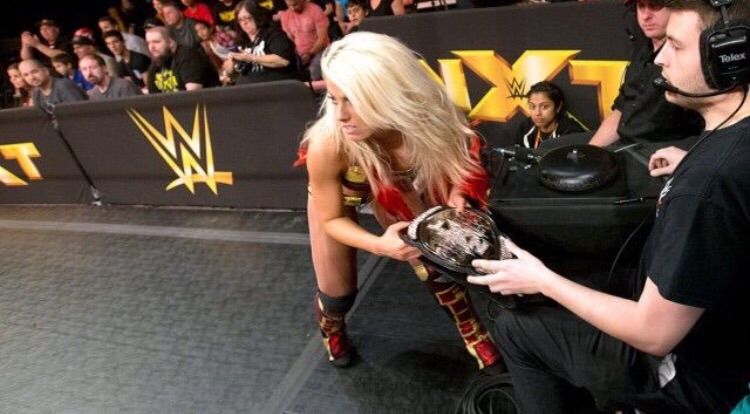 Overall, my opinion on Alexa's NXT run was that it was an okay run, it wasn't amazing but it also wasn't bad. I assume creative didn't expect a lot from Alexa, just like they didn't with Nia as they were both not household names, but as we saw the more screen time she got on the main roster, the bigger the push she got.
Main roster debut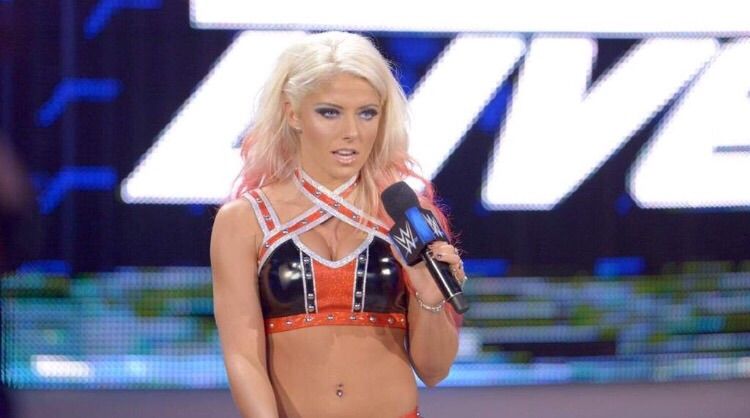 Alexa's main roster debut happened after the brand split where she got drafted to smackdown live. Alexa was part of the inaugural smackdown women's championship match where she was the first one to be eliminated after a double team by Natalya and Naomi keeping her well protected for future matches. It looked like Becky was set to feud with Eva Marie but some backstage issues forced the change and Alexa was given the nod. She carried herself well in the matches, specially because Lynch is a very solid worker, and she was able to push Becky to the max during their promos. The up and coming heel was working very well with one of the best baby faces of the company.
The Goddess strikes gold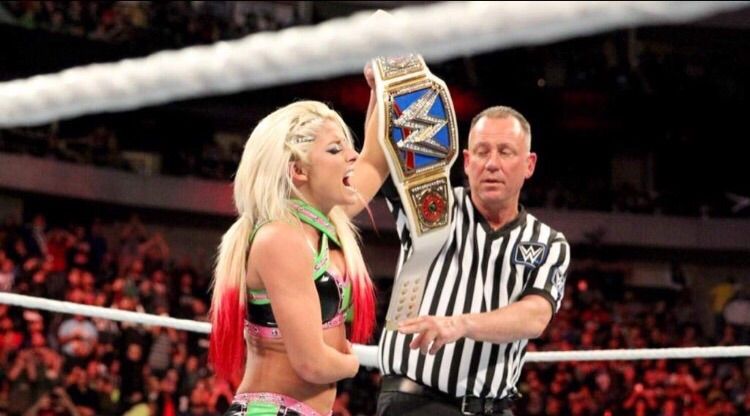 Alexa won the women's title in the TLC PPV in a tables match and proceeded to hold the title for 2 months before losing it to Naomi. She won it back a week later because of Naomi's injury and she walked into wrestlemania as the smackdown women's champion.
Alexa, once again, lost the title to Naomi who was supposed to be holding it in the first place.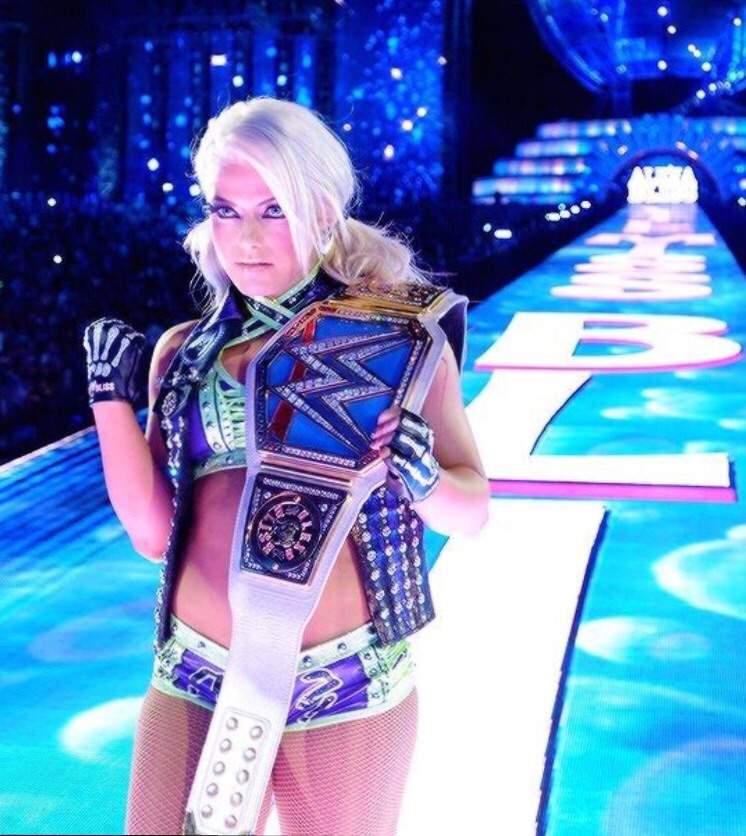 The move to Monday nights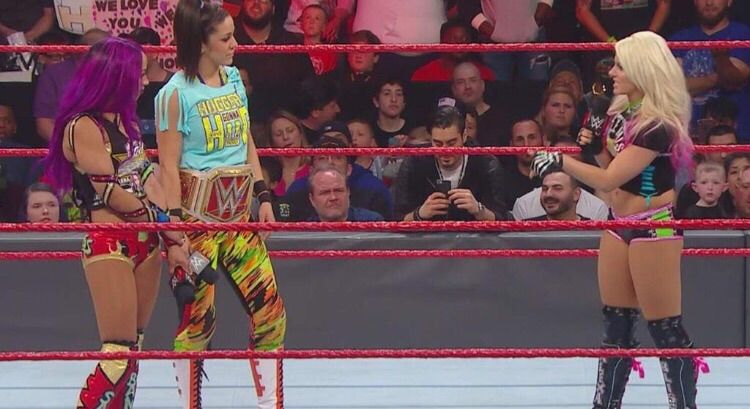 It was no surprise that with the title picture set on smackdown, Alexa made her move to the "A" show where she immediately got put in the title picture. Alexa beat out Sasha on a one on one match giving her the opportunity to face Bayley at Payback.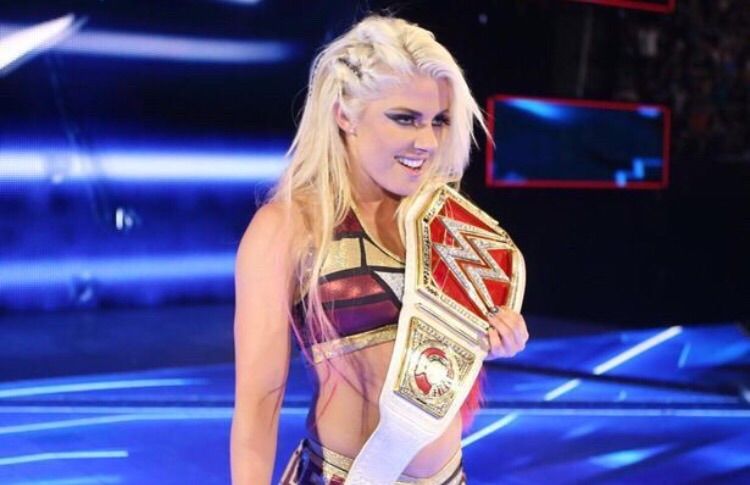 It was in this PPV that Alexa won the raw women's championship for the first time, with this being her third women's championship. Alexa thus became the first women to hold both the raw and smackdown championships of the new era.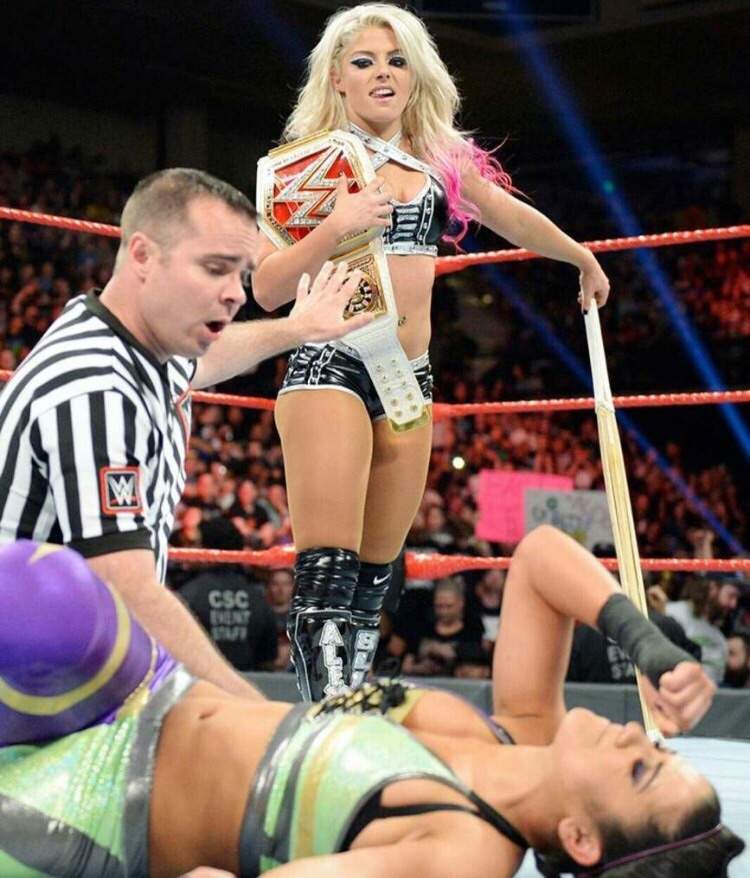 This was the start of Alexa's feud with Bayley. During this feud was the infamous This Is Your Life segment that recieved negative feedback. It was just a bad segment and it just went on for too long. Kurt Angle even made fun of it the next week on Raw. After that Alexa, challenged Bayley to a pole match at Extreme Rules, testing Bayley to break out of her good girl character. It was no surprise, however, that Alexa came out victorious as Bayley wasn't able to go to the extreme to win back her championship.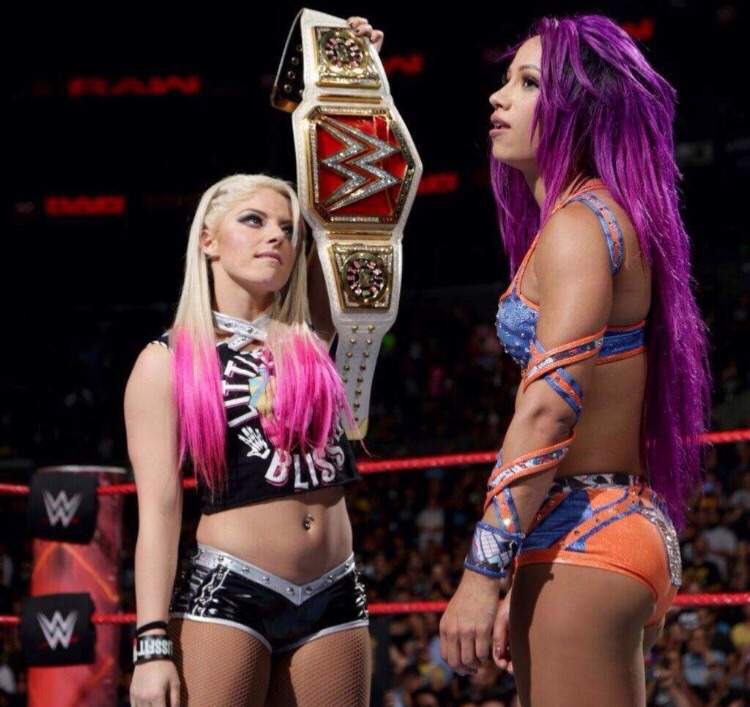 After the Extreme Rules PPV, Alexa started her feud with Sasha Banks; a feud that many found intriguing for it's real life history, over a reported in-ring act of unprofessionalism by the former NXT women's champion, back when Little Miss Bliss still rocked the blue locks, and the infamous tutu.
What audiences found in this feud was a series of matches that held their own weight, and had Sasha Banks victorious, much to many people's hatred towards the self-proclaimed "Boss".
But after a short reign of her holding the Raw women's champion, Banks lost the title back to Alexa, leading to a 5-way match at the pay-per-view; No mercy.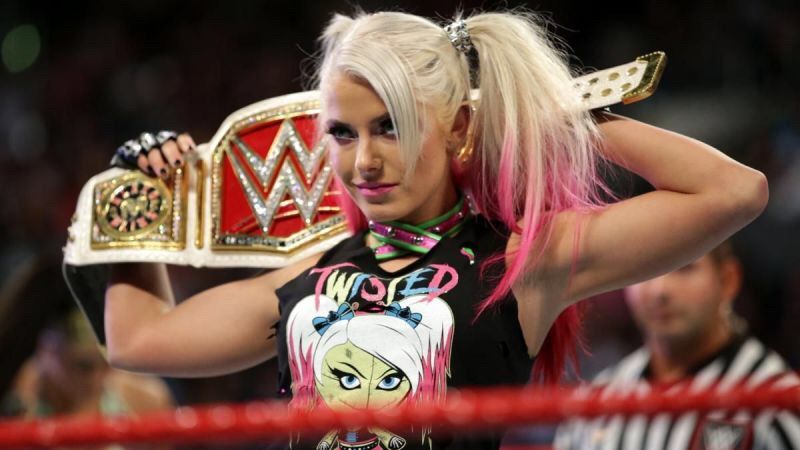 At No Mercy Alexa had one of her biggest matches yet (and probably my favourite); She had to take on Nia Jax, Emma, Bayley and Sasha and once again she showed why WWE trust her so much putting her over in a "heelish" way but still making her look strong.
After this PPV win the Goddess claimed there was no one else to beat but she wasn't right.
The Mickie Challenge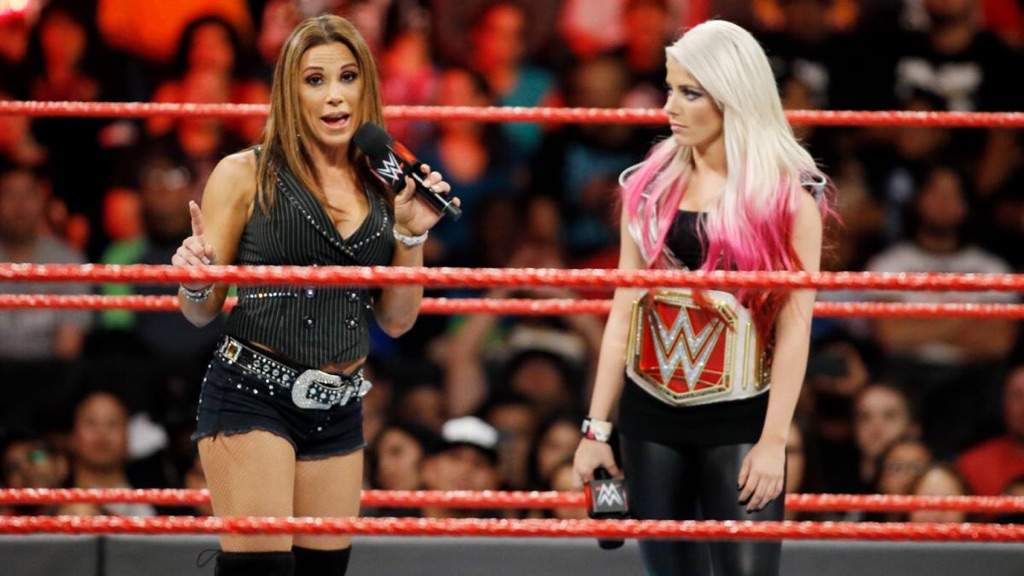 The day after No Mercy Alexa made a promo to claim she had beaten everyone worthy of fighting her for the championship.
In came Mickie James, Mickie was a vital part of Alexa's title defense back in Smackdown during her Becky feud, WWE actually went as far as to plant some seeds for a feud but that hadn't come to fruition until now.
This feud was rather lacklustered with a bunch of poorly written promos and if their idea was to make Alexa a more credible champion it definitely didn't go that way as she was very limited during her match ups against James.
Survivor Series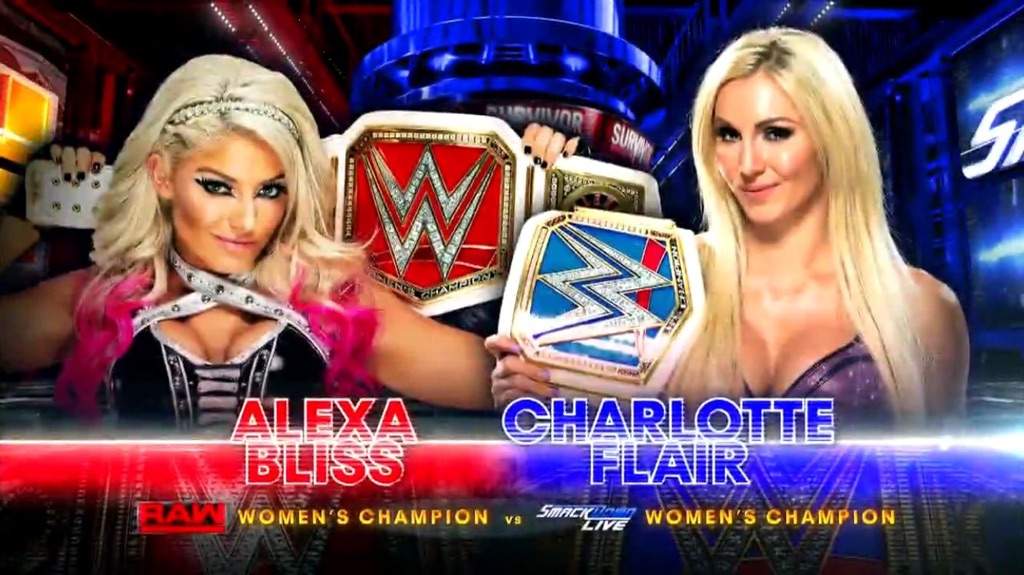 So far this is the last step on Alexa's main roster story. She is pegged to face Charlotte after she defeated Natalya in this week's epiode of Smackdown Live. Honestly, this match sounds much more appealing to me than the origial and I'm very thankful for the title change.
Charlotte is the woman Alexa needs to have a match with to bring her confidence back up again, with Charlotte being, in my opinion, the best women wrestler of all time, it shouldn't be hard for Bliss to shine as she's a very capable in ring performer.
I believe that, if done correctly, this match could even "steal the show". I don't think Alexa will win her Survivor Series match but it could still propel her to higher standards with a good fight.
The RAW Women's division is growing stale and a title change is surely in hand however it might not be a bad thing for Bliss if she drops the title to Paige or Asuka as I believe both of them are capable of having good matches against Alexa.
What worries me more is that once her title feuds are over that she'll be forgotten in the mid card because as we've seen in the past WWE can forget talented women (I.E Emma, Sasha, Bayley, Becky) but with Nia Jax next to Bliss I think she'll continue to be a valuable asset to the women's division and I must stay positive due to the way she's been booked for over a year!
Team rude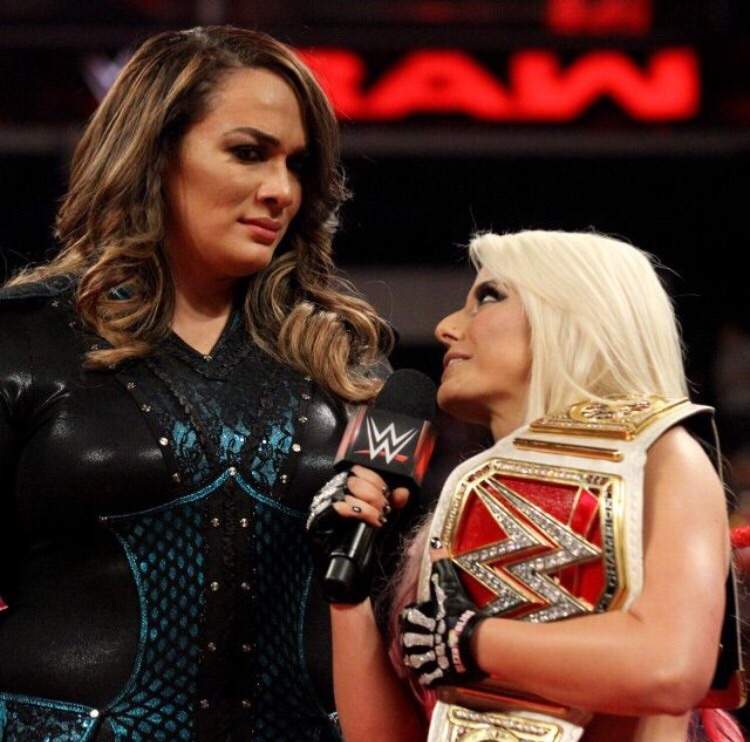 It wouldn't be fair to not mention "team rude". Creative had a terrific idea to unite two women that loved each other backstage and that friendship allowed for great chemistry on screen. Despite both being heels they're extremely liked and with Nia's continued improvement we'll surely see a title match between these two not before long. We've had it teased after Alexa beat Sasha on raw to win her forth title but that idea seemed to be scratched most likely due to Bayley's return from injury.
The Path Continues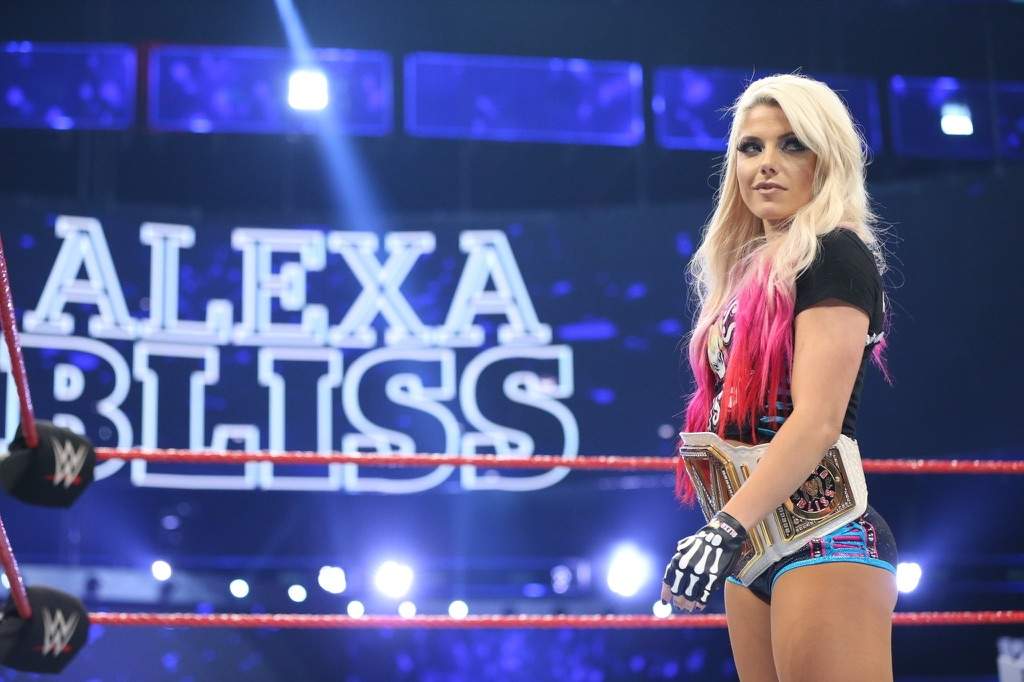 So where does the Goddess go from here? Does she continue her reign as Raw Women's Champion? A women's royal rumble maybe? Does she go to Wrestlemania as champion? Or could she head back to Smackdown Live. Wherever Little Miss Bliss goes her fans will follow and she can only grow and get better than what she already is, at twenty six years old she has a long and successful career ahead of her. There will be four horsewoman, a boss, a hugger, a lass kicker, and a queen. But, just remember......There is only one Goddess of the WWE! And her name?......is Alexa Bliss.
Glitter....
Glitz....
Sparkle.....
Bliss.